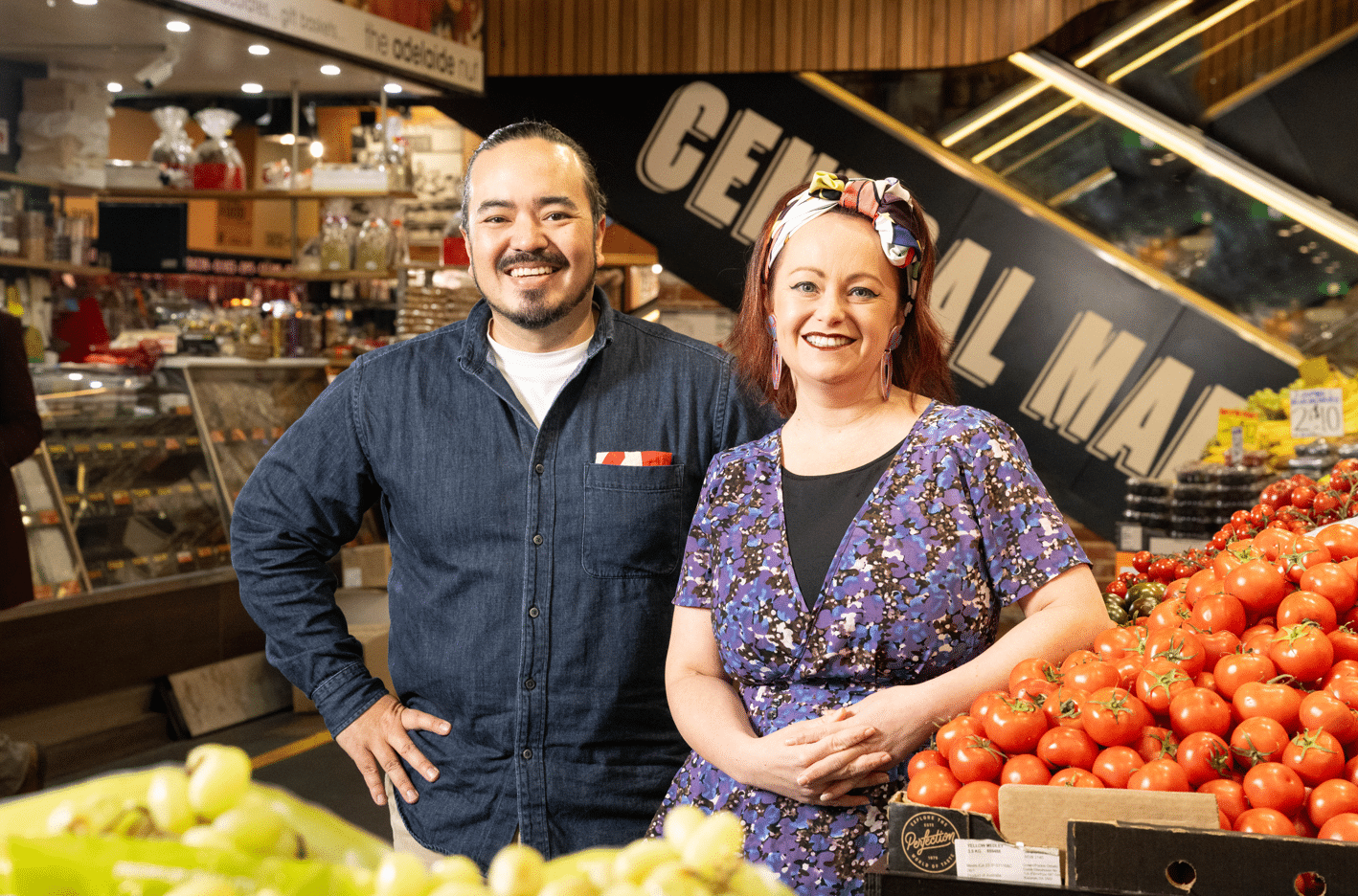 Explore History, Flavour and Culture with Adam Liaw and Katie Spain in the new Adelaide Central Market Audio Tour.
Take a step back in time and experience more than 150 years of rich history and culinary heritage as you step into the vibrant world of Adelaide Central Market through a new audio-tour launching September 12. Be captivated by the favourite dishes and products of renowned foodies and co-hosts, Adam Liaw and Katie Spain, who will guide you through their cherished finds and give you insights into the heart of the Market.
Visitors are invited to embark on this free audio-tour through time and taste, where the early days of the Market come to life through the stories of multi-generation traders. Hear first-hand accounts of what the Market means to these families and how it has evolved over the years to become an integral part of South Australia's identity.
Over this 50-minute self-guided walking tour, discover hidden gems and must-try products from a plethora of stalls as you weave your way through this culinary wonderland. As one of the largest fresh produce markets in the southern hemisphere, the market is a true testament to the diverse cultures that have shaped South Australia's food landscape. It supports the state's network of local growers, producers and suppliers selling millions of kilograms of fruit and vegetables and fresh food every month.
The Adelaide Central Market brings together a vibrant diversity of cultures from around the world. From the first pizza place in Adelaide to a world-renowned cheese master and even an Olympic volleyballer turned chef, the Market is full of fascinating and unexpected stories waiting to be explored.
Walking through the Market is like strolling through a living time capsule. Pass by the oldest camera shop in SA and uncover a restaurant serving authentic laksa found nowhere else in Australia. Delight in the knowledge of where politicians, celebrity chefs, and prime ministers have savoured meals, adding a touch of intrigue to your experience.
The Adelaide Central Market Audio Tour runs for 50 minutes and is available for free on all Android and Apple podcast platforms. Visitors can pick up a map and start their tour from the Market Stall, located on the ground floor near the central Gouger St entrance.